Climbing Area Index / Cathedral Ledge / Diedre (5.9+)
---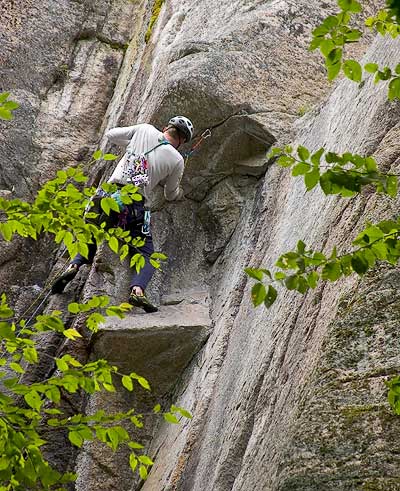 unknown


Photo by Al Hospers
Located about 200 yards left of the North End. Look for a chimney with 3 mossy ledges.
A great climb with amazing positions. If only it had a better start.

Pitch 1: Climb the mossy and often wet chimney, the "Triple Corners", to a belay ledge. (5.8)

Pitch 2: Climb the corner to the left of the small roof, protect on the left and make a breathtaking step right under the roof and up to a belay. (5.9+)

Pitch 3: Climb the beautiful right-facing corner crack, past a birch tree to a comfortable ledge. (5.8)

Pitch 4: Traverse right over a large flake to a amphitheater on the right.

Pitch 5: Climb the obvious handcrack in the middle of the ledge to the trees at the top. The crux is the last few moves and can be avoided on the right. (5.9)


standard rack
Walk off or rappel with 2 ropes.
August 7,1971 - FFA - Joe Cote, Ben Read