Climbing Area Index / Cathedral Ledge / Starfire (a.k.a. Yo Yo) (5.11b)
---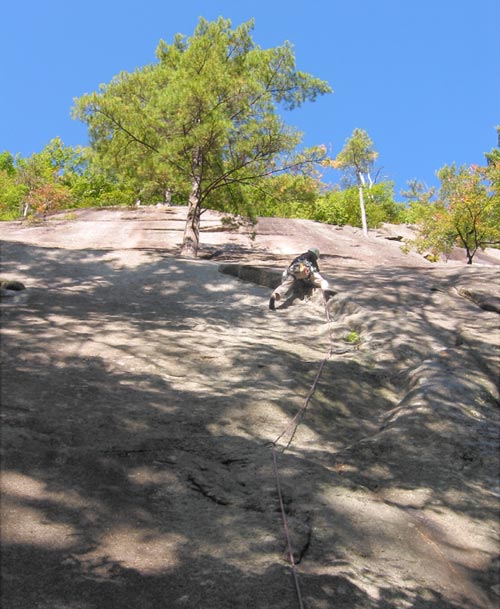 Mason Irish on pitch 1


Photo by Al Hospers
20 feet left of the start of 3 Birches. Look for a small left-facing arch, just left of the large right facing arch that is 3 Birches.
Even if you don't climb 11b, the first pitch is worth doing. In fact you can easily a couple of hours on the moderate 1st pitches of 3 climbs on this face.

Pitch 1: From a start just right of a small weakness, face climb to the beginning of the ramp. Move up into the arch and follow it to its top. Clip a pin just over the top and face climb 12 feet to the tree. Belay at the Ego Trip double bolt anchor on the left. - 60', 5.8

Pitch 2: From behind the tree, right of the belay, climb up and right to the first bolt. (run out) Continue up the slab past 3 bolts to the finger crack (5.9) left of 3 Birches. - 5.11b, 120'


Standard rack for pitch 1 and the upper finger crack.
Rappel off the tree at the top of Ego Trip.
September 27,1975 - Michael Hartrich & Joe Cote