Climbing Area Index / Cathedral Ledge / No Guts No Glory (5.9)
---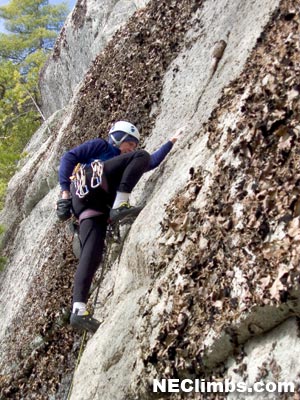 Al Hospers


Photo by George Hurley
A small crag located well below the Barber Wall. Descend the trail from the top of Cathedral Ledge past the Barber Wall cutoff for about another 30 feet. When the trail turns right cautiously scramble down the gully straight ahead keeping the slab and cave on your left. Continue downhill past the Hidden Wall for about 80 feet and cut left to the base of the Glory Wall being careful to avoid various drop-offs along the way.
Start to the right of Morning Glory at a large pine tree and a crack. It can be broken up into 2 pitches by belaying just below the headwall.

Pitch 1: Follow the beautiful right leaning crack to a short 7-foot head wall. Climb the headwall crack and then angle left to the Morning Glory Slab. Continue to the Morning Glory rappel tree.


standard rack
The easiest thing to do is to rap the route or walk left on the Barber Wall trail & go back around to the crag as you came.
September 2003 - Mona LíHeureux, George Hurley, Peg Immel