Climbing Area Index / Cathedral Ledge / Mighty Mite (5.7)
---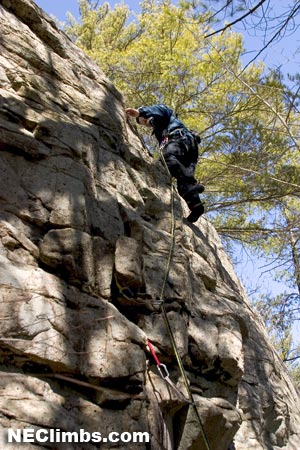 George Hurley


Photo by Al Hospers
One of a couple of small crags located well below the Barber Wall. Descend the trail from the top of Cathedral Ledge past the Barber Wall cutoff. Continue down about another 30 feet and when the trail turns right cautiously scramble down the gully straight ahead keeping the slab and cave on your left. Look for a 2 bolt ring anchor on the left side of the crag. This anchor is used for the 2 leftmost climbs.
While the climbing is nice, the overhangs after the start makes it stiff for a 5.7. Above the overhangs the climbing becomes easier and a bolt at the final stance protects the moderate last moves. This is probably NOT a 5.7 for 5.7 leaders!

Pitch 1: Climb up to the large jugs then move right to a solution pocket. There is bomber gear up through the jugs to a good stance. Clip the final bolt then step right and then back left up onto the slab to the anchor.


standard rack with small & medium cams
rap from 2-bolt anchor
August 2003 - George Hurley, Peg Immel