Climbing Area Index / Cathedral Ledge / The Unicorn (WI 4+)
---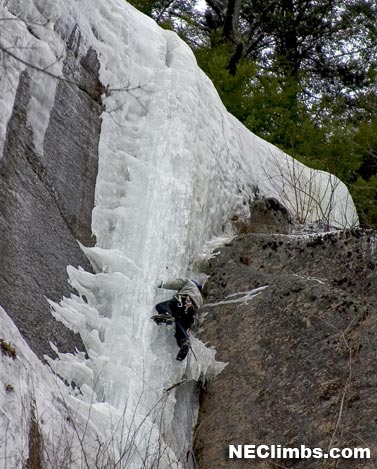 Eric Seifer


Photo by Al Hospers
On the right side of a huge ledge above the north end cracks.
When it comes in, a steep and strenuous effort. In 2004 it was done many times as a full length route starting at a runnel right of Child's Play and continuing all the way to the top of the cliff.

Pitch 1: Climb a runnel that starts on a small ledge 50' right of Child's Play. Follow a snow gully up and left to a tree on a large ledge above the North End cracks.

Pitch 2: Step left behind a bush, climb a thinly iced slab to the big ledge and head right to the base of the climb. Continue straight up to some trees at the top of the cliff.


standard ice rack and possibly some rock gear, double ropes are very helpful
Walk off to the right.
January 1978 - Paul Boissonneault, Chris Noonan, Jeff Butterfield