Climbing Area Index / Cathedral Ledge / Ego Trip (5.11c)
---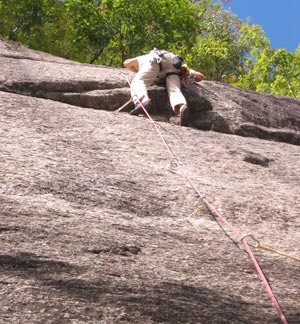 Mason Irish at the crux


Photo by Al Hospers
Located on the lower left side of the cliff. 30' left of 3 Birches
Even if you don't climb 11c, the first pitch (10b/c) is great on it's own. The second pitch is a sport route.

Pitch 1: Climb the clean face past a bolt, a pocket (pink tricam), then 2 more bolts to a double bolts anchor left of the tree. 60', 5.10b/c

Pitch 2: Climb straight up behind the tree past 13 bolts (no trad gear required). The crux is getting over the larger overlap in the middle. 130', 5.11c


A pink tricam fits in a pocket after the 1st bolt and you can get a wire in a slot just left of that. Otherwise just bring 13 draws for the second pitch.
Rappel with 2 ropes straight down to the ground from the tree at the top of the climb.
October 1990 - Brad White, Ian Cruickshank and Mike Hardert, pitch 1, October 1990. Pitch 2 by Brad White and Ian Cruickshank that same month.