Climbing Area Index / Greeley Pond: Journeyman Crag / The Journeyman (WI 4 M2)
---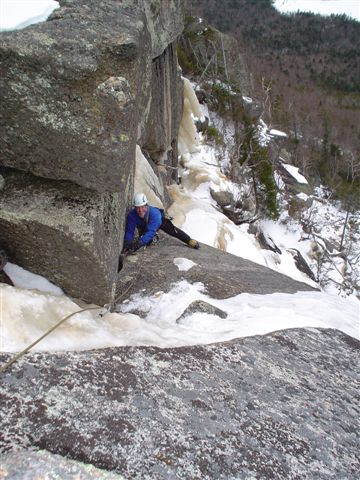 Ken Grinnell


Photo by Brad White
Look for an obvious yellow pillar left of overhangs in the center of the crag.
This is a climb that's in a very remote setting, high on the side of Mt. Kankamagus. A really cool mixture of steep ice and moderate rock climbing.

Pitch 1: Start at the left center of the crag at a forty-foot high yellow pillar. At the top of the pillar traverse right and up the ice steps. Belay below the upper headwall with a capped chimney on the left. - 100'

Pitch 2: Start up the chimney then step left around the roof to a thin finger crack in the left-facing corner formed by the huge block (very exposed). Follow this crack to more easy ice and on to the top.


standard rock and ice racks
February 20,2004 - Brad White, Ken Grinnell