Climbing Area Index / Cathedral Ledge / Black Crack (M7 very committing)
---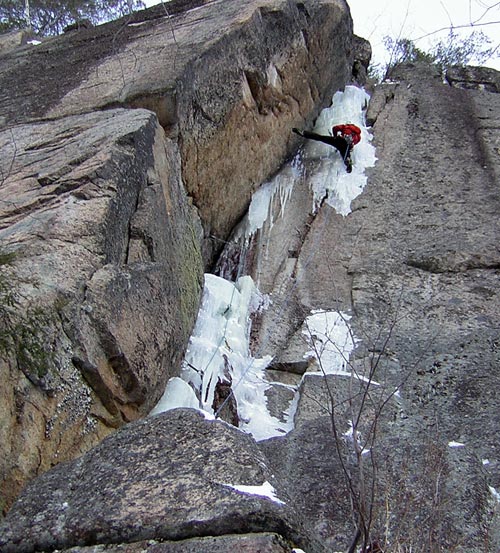 Bayard Russell


Photo by Tim Martel
Start near base of the Upper Refuse rock climb
The pitch descriptions are by first ascencionist George Hurley.

Pitch 1: Climb steep but straight-forward ice up the Refuse ramp and Black Crack for about 60 feet. At that height the ice ( on 3/25/97) was too deep in the off-width crack to be useful. I used fixed protection on Refusal and then dry-tooled Black Crack for about ten feet above the last pro to the 1/4 inch bolt which is a few inches right of Black Crack. After another dry-tool move above the bolt, I could transfer to the hanging ice on Refusal for 20 feet of vertical ice thick enough for a screw. Then the climbing becomes friendly in that you can chimney between the ice column and the rock. When the chimney pinches out, climb the crest of the column. Belay from a tree at the first low-angle section of the route, 140 feet, M7

Pitch 2: Climb the tree and the ice to gain lower angled ice and snow leading to the top. 25 feet, NEI3.


walk off the top of the cliff
March 25,1997 - George Hurley, Michael Kahn