Climbing Area Index / Crawford Notch - various / Lost In The Sun (5.5 III)
---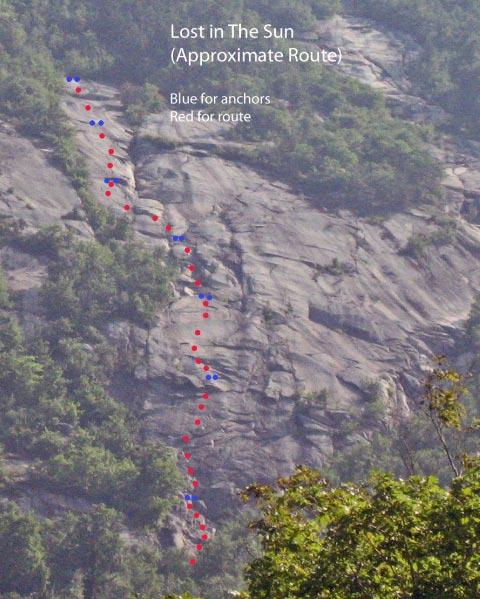 Park in the pull out for Willeyís Slide and walk south along the road for 100 yards, then cross the Saco where the birches begin. Continue south along the east side of the river, cross a side stream, then follow ribbons thru open woods for a couple hundred yards, heading for the lowest remnants of an old slide. Head uphill following cairns and ribbons until the open gully is reached. Follow the gully for about a quarter mile, until the slab comes into view. Expect about a 30-45 minute hike up from the road.
The climb generally follows the left hand margin of the rock and consists of interesting features including: slab, corners and cracks, all on good to excellent rock. If youíre an aspiring leader looking for a multi pitch challenge beyond Clip-it-de-do-dah, or a less crowded alternative to Standard Route on Whitehorse, youíll enjoy this climb. We believe that itís a good, climb for a 5.5 trad leader with multi-pitch experience that is just plain fun. However, it is not a climb where you can have protection every ten feet.

The ëSnake Flakeí got its name when Jack pried off a loose flake to uncover what looked like a copperhead. As it slithered deeper into the rock, Jack rappelled in the opposite direction. After consulting the NH Fish & Wildlife website, we believe that it was either a milk snake or a vacationing tourist as copperheads donít reside in NH.

Pitch 1: From the very toe of the slab, head up and left, passing a few gear possibilities and a bolt, before reaching the two bolt anchor. 5.1 140í

Pitch 2: Climb straight up past a cam placement, clip a bolt on the left, then head up over slabs (gear and another two bolts) and small overlaps to a ledge with two anchors. The anchor for "Lost in the Sun" is on the left. 5.5 180í

Pitch 3: Climb the slab into the right facing corner /crack that is easily protected with cams. When the crack ends at a tiny overlap move toward and clip two bolts that trend slightly left. After the second bolt trend a bit right toward a third bolt that leads to an anchor above. 5.5 150í

Pitch 4: Go past a ledge with sand and a bit of loose rock, then climb up along broken left facing corners to an anchor on a nice ledge. 5.2 160í

Pitch 5: Climb up along a water groove, cross left, protect using natural gear placements then climb up and left on small flakes and cracks to a thin, vertical right facing flake (the Snake Flake) in perfect rock. Protect, then move up and right to an anchor beneath a tiny overlap. 5.4 150í

Pitch 6: Surmount the overlap (easy), then clip a couple of bolts on clean slab just left of a large water groove, to another anchor. 5.3 170í

Pitch 7: Go straight up an easy slab, then clip a bolt beneath a short, steeper headwall, to the final anchor below a tree. The bolt anchor eliminates the last step to the tree on wet moss. 5.4 110í


The climbing is relatively consistent in difficulty with a few bolts and two or three placements for natural gear on every pitch. We recommend bringing four draws, six shoulder length slings, a single set of cams from the smallest to 2.5 inch, and a few small nuts. All anchors are two bolts with rings. Rappel the route with two 60 meter ropes.
Rap the route
July 2007 - Chuck Woodman & Jack Dorsey