Climbing Area Index / Cathedral Ledge / Passing Thoughts (5.11c)
---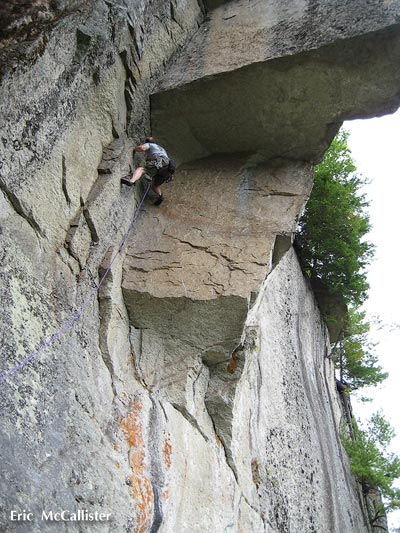 Jim Ewing


Photo by Eric McCallister
Start at a groove about 10' left of Repentance
Not done too often, but a very nice route nonetheless. Don't bother unless you have your jamming together!

Pitch 1: Climb the groove, often dirty, to the bolted Recompense belay. 70', 5.9

Pitch 2: Step left and down to where you can climb a corner to tree ledge on Abrakadabra. 40' 5.8

Pitch 3: Climb a crack on the right, stepping left before Repentance. Follow flakes to a gear belay just before a bolt ladder. 50' 5.8

Pitch 4: Follow the bolts (this is on Abrakadabra) up the slab. 30' 5.11c

Pitch 5: Step right and traverse into the Repentance chimney. Continue up to a belay ledge on the right. 60'

Pitch 6: Step down and right to a slab. Continue up the corner, past 2 overhangs. At the top step into the Repentance chimney and climb the hand and finger crack on the right wall (crux). 90' 5.11c

Pitch 7: Follow the slabs up to the woods.


standard Cathedral rack
walk off via the climber's trail or rappel
September 1982 - Steve Larson & Andy Tuthill