Climbing Area Index / Crawford Notch - various / A Bit Short (5.6 III)
---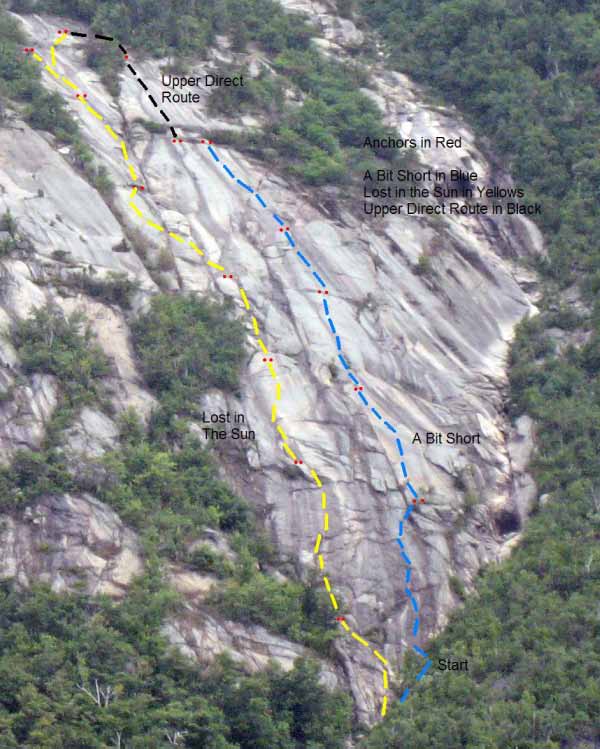 Park in the pull out for Willeyís Slide and walk south along the road for 100 yards, then cross the Saco where the birches begin. Continue south along the east side of the river, cross a side stream, then follow ribbons thru open woods for a couple hundred yards, heading for the lowest remnants of an old slide. Head uphill following cairns and ribbons until the open gully is reached. Follow the gully for about a quarter mile, until the slab comes into view. Expect about a 30-45 minute hike up from the road.

To locate the start scramble up the fourth class gully to your right about 75 ft to reach a large ledge with boulders on your right. Look for a bolt on dark rock above and to your left to verify that you are on the correct ledge. There has been a cairn that marks this ledge.
This is a nice route with mostly beautiful rock and great views. Climbing in this area in the fall can be a spectacular experience!

Pitch 1: Climb up past 4 bolts and a few gear placements mostly on black rock to a tree ledge on the right and belay at a 2 bolt anchor. Although there is a significant amount of crumbling rock on this pitch, the line between the bolts is mostly on good rock. 5.6 190í

Note: This pitch is fairly run out between the first and second bolt. Although there is a bottoming crack, it does not accept gear well. It is possible but off route to head left on lower angle rock to a steeper wall with a seam slanting right up to the black rock just below the second bolt. This (not cleaned) seam has positive holds that probably will accept gear.

Pitch 2: Climb easily past a couple of bolts, go up and right to a hidden corner with a place for a small cam at its top, then run it out on easy slab to the anchor. 5.3 160í

Pitch 3: Head up between bushes to a steeper swell. Work up a shallow gash, then nice slab climbing and a few bolts lead to an anchor. Face climbing left of the gash makes it harder. 5.5 150í

Pitch 4: Easy climbing leads to a broken corner, then to another anchor. 5.2 120í

Note: Use care when you reach the broken corner as there are a couple of bread box sized rocks that could be sent tumbling.

Pitch 5: Above the belay angle left toward, a steeper brown left facing flake/crack protected by a piton that also accepts a very small cam at its start. Once past this nice feature, go straight up the face. After clipping a bolt, trend left to join an anchor at overlaps below the final easy slab. 5.4 170í

Note: You'll also notice a nice left slanting two inch crack above and right of the belay anchor that provides another option. Technically that features belongs to a climb that is right of "A Bit Short".

The direct route continues for another couple of pitches of easier climbing above the top of "A Bit Short".


The climbing is relatively consistent in difficulty with a few bolts and two or three placements for natural gear on every pitch. We recommend bringing four draws, six shoulder length slings, a single set of cams from the smallest to 2.5 inch, and a few small nuts. All anchors are two bolts with rings. Rappel the route with two 60 meter ropes.
Rappel either this route, the central direct route, or ìLost in the Sunî with two ropes. Itís fairly easy to switch between the three.
July 2007 - Chuck Woodman & Jack Dorsey