Climbing Area Index / Meadow Brook Slab, Table Mountain, etc. / Kindred Spirits (5.10c)
---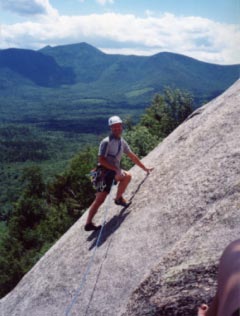 as per the area description
This fine route is located near the Kancamagus Highway, on the Meadow Brook Slab, the clean, south facing wall 1/4 mile west of Greenís Cliff. It offers excellent face climbing, spectacular views and plenty of solitude- a wonderful wilderness adventure and climbing comparable to the best on Whitehorse. It's not exactly new, but it's never been documented anywhere.

Pitch 1: Gain a ledge, then follow a line of bolts up a smooth face (5.10a) to a good stance. Continue left past a lichen strip, then go straight up on easier rock to a hanging belay at a small tree on the left. 90', 5.10a

Pitch 2: Move right along a ramp, plug in a small cam, and overcome a steep wall protected by bolts (5.10c). Nice moves on perfect granite lead past bolts to a horizontal crack and overlap. Two more bolts lead over another steep section (5.9) to a great ledge. After a 5.7 move, scramble up to a belay at a large pine. 175', 5.10c

Pitch 3: Low angle face climbing leads straight up to a bolt at 40'. Follow a shallow groove with pockets to the top and a tree belay. Take a few moments to relax and enjoy the scenery. The view is one of the best in the mountains. 110', 5.6


To compensate for the rather lengthy approach, a light rack of about 8 draws and a couple of cams to 1" will suffice. Sandals are helpful for the river crossing.
3 rappels lead to the ground. First, rap back down to the pine. The next rap station is 160' straight down. The final rap ends at the start of the route.
Chuck Woodman initially scoped the route in the mid eighties on the way into Green's Cliff, but did not return 'til the fall of 2002. The first ascent was accomplished rope solo by Woodman. All bolts were hand drilled on the lead, some while hanging from hooks.