Climbing Area Index / Mt. Willard / Cauliflower Gully (WI 2 II)
---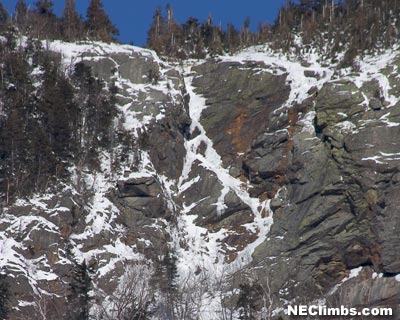 Photo by Al Hospers
Climb one of the other lower routes on Willard to the large tree ledge that bisects the cliff. Walk up and left to the base of the route.
2 pitches of nice gully climbing, providing a reasonable finish to any of the main climbs Mt. Willard. It tops out right at the top of the cliff, very near the overlook. While usually a Grade 2, it sometimes provides a nice Grade 3 bulge.

standard ice and alpine rack
Walk off on the Mt. Willard trail back to the road.
February 13,1983 - Todd Swain, George Hurley