Climbing Area Index / Mt Huntington / Way In The Wilderness (WI 5 II)
---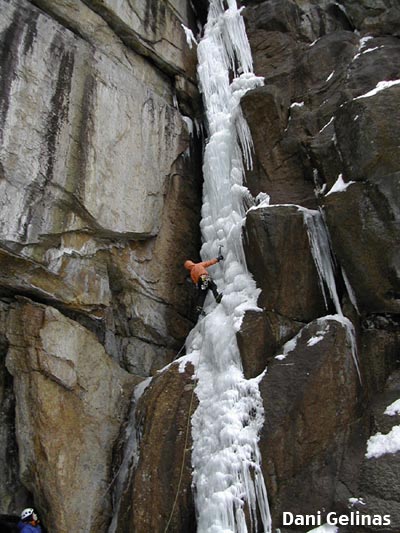 Jamal Lee-Elkin


Photo by Danielle Gelinas
Drive east on the Kanc past the Albany Covered Bridge. Look for the Rainbow Slabs on the right and park at a pullout on the right at a curve. With binoculars you can get a good view of the route from the road. Walk downhill and cross the ice on the Swift River. Turn right on a ski trail and look for a trail going left. Follow it past a huge boulder in the woods to the base of the climb.
A classic hard New England route in a beautiful location. The route gets sun during the day so if the ice on the river isn't thick enough to support you, the route probably isn't in very good conditions either! Generally done in 2 pitches.

Pitch 1: Climb several steep sections, often fragile and fluted, to a fixed belay at a stance on the left.

Pitch 2: Climb the narrow pillar through a notch to easier ground above.


standard ice rack with some medium and small cams & nuts
Rappel the route with 2 ropes.
February 1978 - Jim Dunn, Michael Hartrich, Peter Cole