Climbing Area Index / Humphrey's Ledge / Above And Beyond (5.9+)
---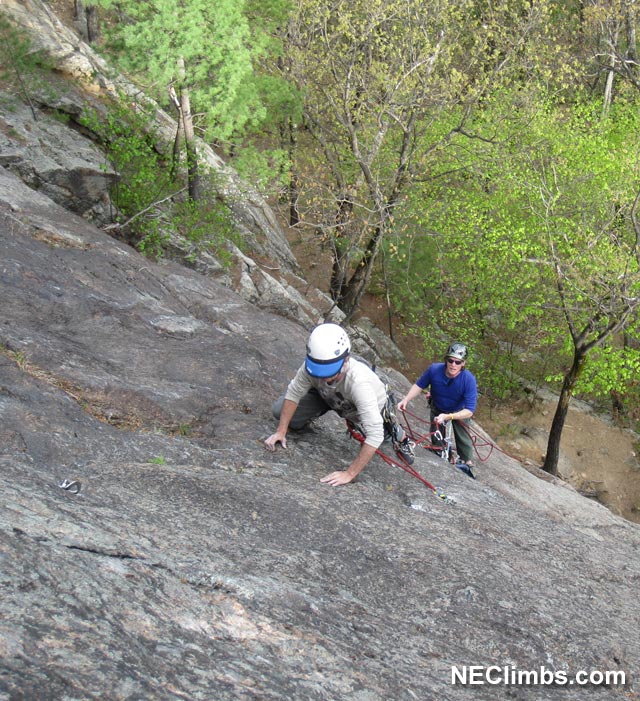 Joe Perez on the 2nd ascent of pitch 2


Photo by Judy Perez
Hike left toward the end of the main cliff band looking for a clean slab with shiny bolts, just before a buttress. This is Wanderlust. The climb starts up the right facing corner of the buttress, left of the slab.
The first pitch was established by Joe and Judy Perez several years before the second, thus the FA history is somewhat complicated. In the spring of 2011 the Perez's and Al Hospers went up to check out a possible second pitch and Al found a nice 5.9 line that went straight up off the Wanderlust belay on good rock. Several weeks later the threesome hiked up to the top of the cliff and rapped down to top-rope the line for pitch 3. A couple of months later, in early July, Joe & Judy went back and drilled the bolt holes for the last pitch. On Bastille Day 2011 all three went back, put the bolts in and Joe led the last pitch.

Pitch 1: Climb the right-facing corner to a small ledge just below the slightly-overhanging headwall. Surmount the headwall past 2 bolts (crux), past 1 more bolt and then pad up easy ground to the Wanderlust belay. (5.9+)

Pitch 2: Climb straight up from the anchor and follow a straight line past 6 bolts to a 2-bolt anchor. (5.9)

Pitch 3: Climb up to the headwall and clip the first bolt. Make difficult balance moves up and right to a second bolt (crux) and then up with some difficulty to the third bolt. Continue up right of the bolt to a left facing flake and a stance where you can get gear (green Camelot) in a horizontal at the top of the flake. Continue past several bolts to a 3-bolt anchor under a large rotten headwall. Do NOT continue to the top of the cliff as there is a LOT of debris on the ledge above.


P1 requires several large to medium cams. P2 is a clip-up as there is no natural protection available.
Rappel from the upper anchor in 2 raps with a single 60 meter rope.
July 14,2011 - P1 Joe & Judy Perez somewhere around 2005
P2 Al Hospers, Joe & Judy Perez 5/9/2011
P3 Joe Perez, Judy Perez & Al Hospers 7/14/2011