Climbing Area Index / Humphrey's Ledge / Reverse Traverse (5.6)
---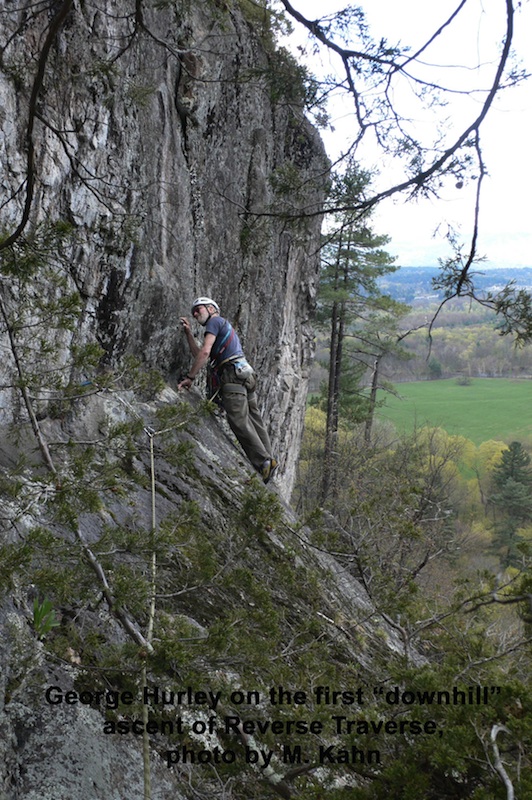 George Hurley


Photo by Michael Kahn
Hike left toward the end of the main cliff band to the area with all the older routes like Cakewalk and Mr. Moto. Climb the first pitch of Cakewalk (5.6) and from the tree belay, follow the vegetated ledge left (west), past the starts of Sting Like a Butterfly and Rematch, to the small pillar at the start of the third pitch of Rumble in the Jungle. (The wary might keep the rope "on" for this 70' ramble.) Anchor at the pillar, or to the small trees near it.
As it is a traverse, the second shares the leader's perils, so the route is not for the inexperienced. It is safer, for the second, when led east to west, as described above.

Pitch 1: The route itself follows a wide crack, one that appears to be the top of an enormous flake, arching gradually upward, and westward, for about 70'. The hardest moves are at the start, stepping down from the base of the pillar onto the flake itself. It is possible to find some placements with a conventional North Conway rack, but three or four camming units, 4-6 inches, increase comfort and safety dramatically. Belay at the cedar tree at the far end if going right to left.


Standard rack with some small cams.
To descend, either 1) ascend the fixed rope above the finish, traverse the scree slope eastward to reach the top of Rumble, and rappel from the fixed anchor to the start, or 2) continue west on a narrow ledge to reach the fixed ropes that end at the start of Mischief, and descend the gully, using these for safety.
May 2011 - The route was first led, west to east ("downhill"), by George Hurley, in May, 2011 and then east to west ("uphill"), by Michael Kahn, in June, 2011.