Climbing Area Index / Humphrey's Ledge / Can YOU Believe It? (5.8)
---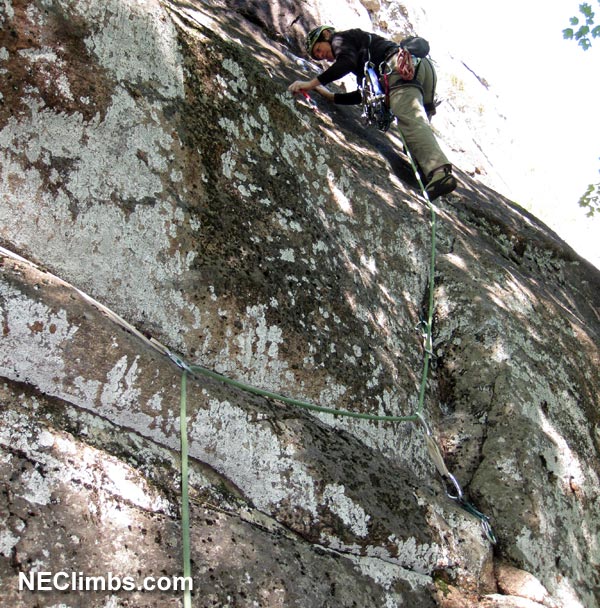 Al Hospers fitting the 1st of 3 Tricams on the FA


Photo by Brad White
Hike up the hill to the cliff and go left about 50'. When you get to the Shifty Eyes face, the climb will be 20' right of the buttress just right of Shifty Eyes. The climb is located on a clean gray slab, between Straight Up and Giuoco Piano.
Fun climbing, and arguably a 5.8 climb for 5.9 leaders. The final 20' from the last Tricam placement to the anchor is easy friction climbing but with no protection! The anchor can also be used to toprope both African Queen and Straight Up.

The name came from Al's surprise at finding the 3 Tricam placements. It's Red Sox commentator Joe Castiglione famous statement when the Sox won the World Series in 2004!

Pitch 1: Traverse easily right on a small ledge to the short left-facing corner (gear). Make a committing move to pull over onto the slab and find a solution pocket (Tricam) up and a little left. Continue up and right past 2 more pockets (Tricams) on easy ground to a 2-bolt anchor on the headwall. 45'


Green Alien and small/medium Camelot for the corner plus Tricams for the 3 pockets.
Rappel from the 2-bolt anchor
September 19,2011 - Al Hospers and Brad White. Al found the line one day when he and Brad were playing around in that area on Under Toe and Shifty Eyes. He cleaned out the lower gear placements, but it was damp and he wasn't sure if there was any protection above the corner. About a month later he was out with Joe & Judy Perez and lowered down on it and found the Tricam placements, but they didn't have any Tricams! The next week he came back and led it with Brad.