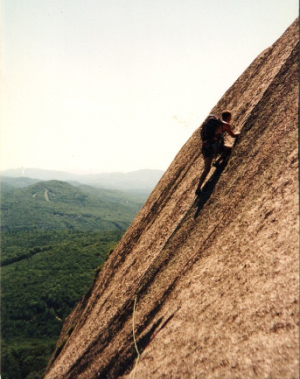 30ft right of Subversive, atop a block you'll see some bolts leading right to a ramp.
An area classic, bring your camera!

Pitch 1: From the belay, traverse left past a new bolt and 2 old 1/4" bolts to the base of the crack. Climb it (gear to 3") to the 3 bolt belay atop Subversive Behavior. 3 bolts and gear 90ft


Standard rack + draws
Rappel with 2 ropes 120ft to the ground or follow a dike right (no pro) to the 2 eyebolts atop The Beach and rappel back to the belay.