Climbing Area Index / Found Ledge / 29 Years Later (5.7)
---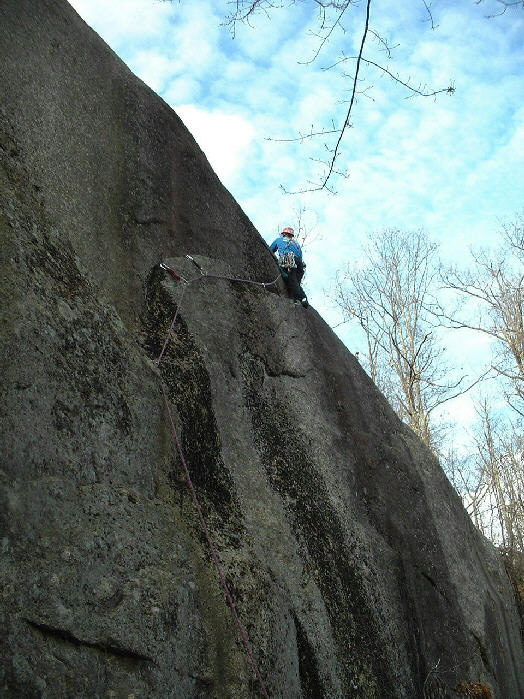 Larry Boehmler


Photo by Fred Batchelder
This is the last climb on the far right side of the Main Cliff, just before the hill goes steeply up and right to the upper slab above the cliff. There is a narrow passage between a huge boulder and the right wall.  At the end of huge boulder is a soft maple tree, the climb starts in front of the tree.
Although the climb is rated 5.7, it's probably not a good climb for 5.7 leaders!

Larry Boehmler & Fred Batchelder named their climb in memory of the fact that this was 29 years after Joe Cote & Kit Dover did their FA at Found Ledge.

Pitch 1: Boulder moves lead straight up 15' to U shape depression with good gear (blue Camelot of equivalent). Step up and right to right-angle ramp with fairly good gear and moderate climbing. Hand-traverse across and then balance up at the end of the ramp, then reach up over the hollow flake to a bolt on the lip of the slab. Step down and continue moving right, undercling the flake another 6' and then step up (carefully) on the slab. Follow a clean streak up 10' to a 2-bolt anchor.  110'  5.7


normal rack of cams with a blue Camelot or equivalent
rappel from the anchor with a single 60 meter rope
September 20,2004 - Larry Boehmler & Fred Batchelder