Climbing Area Index / White Ledge (Albany) / Trail Of Tears (5.9)
---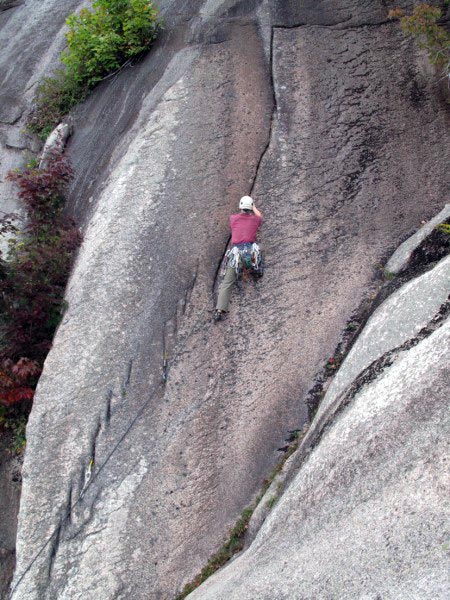 Tom Bowker


Photo by Brad White
Start 30 feet up and right of the toe of rock on a small ledge. This ledge can be accessed by hiking up and around a large White Ash tree on the right and then walking back left.
The middle area of left facing corners was climbed before, possibly exiting up the slanting dike to the hanging corner of what is now Manifest Destiny. Parts of this climb were most likely one of the original climbs on the cliff.

Pitch 1: Off the left edge of the ledge climb a short slab to the next small tree ledge. Climb up on a left leaning ramp behind a small clump of trees to a bulge below a slab (bolt). Climb straight up the slab stepping left into a large right facing corner caped by a small roof. Climb the corner and roof, then continue up the slab above (bolt) to a comfortable ledge with a two bolt belay shared with Go West Young Man. 5.7 120'

Pitch 2: Climb 15 feet up the left facing corner till a step right around a nice arÍte can be made. Climb the shallow cracks in the slab to a short bulge/headwall. Climb straight over this to a flat ledge then continue straight up and over the overlap just before its right most end to a 2 bolt anchor on the slab above. 5.7 115'. Alternate pitch 2; Climb up and left following corners and flakes around a clump of bushes joining Illusion of Prosperity for 40' then back right to the flat ledge. Move right and up, pulling the large overlap just before its right most end to the same two bolt anchor on the slab above. 5.7 125'

Pitch 3: Climb straight up the slab above the belay for 20' till above the bush island. Trend up and right over a small dike and shallow left facing corner/step to the first of four significant overlaps with bolts on the second and third. After the third polished overlap (crux) climb up into a small alcove below the spectacular brown headwall. Exit the overhanging alcove on the left using a slanting finger crack. Climb the headwall to a two bolt belay at a small ledge at its crest. 5.9 115'

Pitch 4: Climb straight to the top past one thin move above the belay (bolt). 5.5 100'


A full modern rack is needed...
This climb can be rappelled with a single 70 meter rope. If you have a 60 meter or less you will need to bring a second rope or walk off. The first rappel is from the pine tree at the top of the cliff and then follows the ring bolt anchors to the ground at the starting ledge. With a single 70 meter rope the third rappel just makes the ledge so tie knots in the ends of you rope and make sure it is centered!
2012 - FRA Brad White and Matt Peer Summer 2012