Climbing Area Index / Humphrey's Ledge / Daddy's Got New Shoes (5.7)
---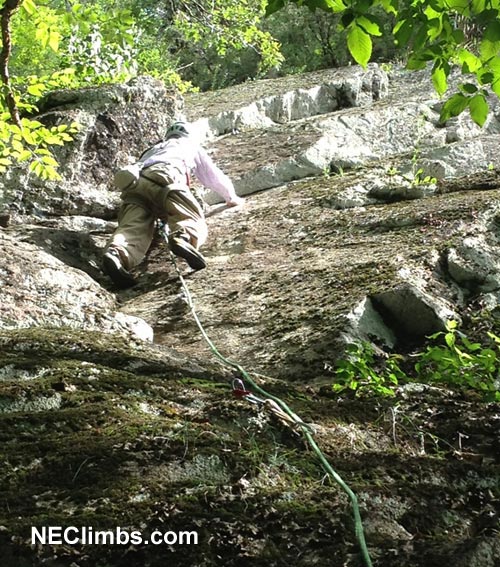 Al Hospers


Photo by George Hurley
Hike left along the cliff past Robinson Crusoe. As the trail goes uphill to Wanderlust take a left on a separate trail. The first route you come to is Easy As Pudding Pie. Keep walking gradually uphill to the 3rd small climbing area. Three Brushes is just uphill from Life Of Riley and Daddy's Got New Shoes is 50' left.
Although the starting slab looks moss covered, the holds and gear placements are cleaned and good and the moves are nice.

Pitch 1: Climb the mossy face for the first 30', finding gear and handholds exactly where you would want them, heading for a clean face below an arch. Move up and clip the bolt, then step through the arch on your left and continue up a nice moderate face to a 2-bolt anchor. 60'


Standard Valley rack, mostly small cams.
Rappel the route with a single 60 meter rope.
September 10,2011 - Al Hospers, Joe & Judy Perez