Climbing Area Index / Hall's ledge / Dirty Faces (5.5)
---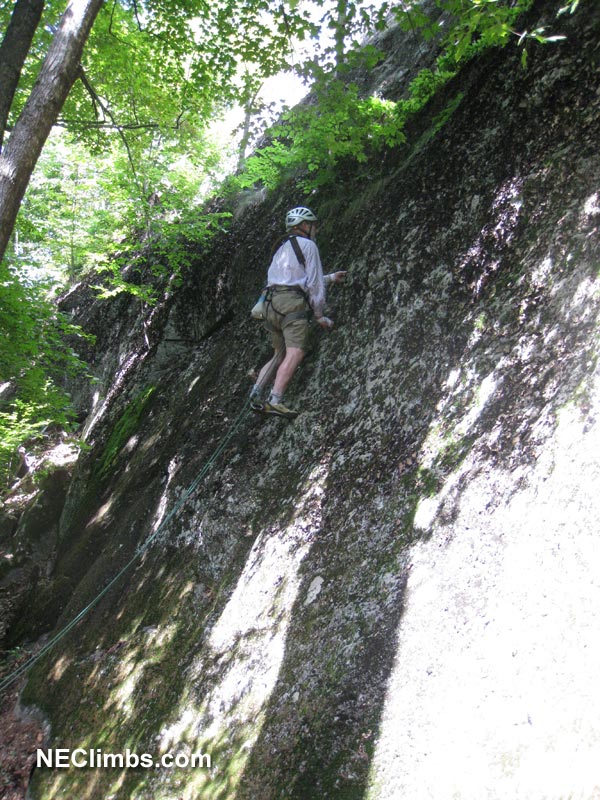 George Hurley on the FA


Photo by Al Hospers
Walk left from the Pinnacle Block area and go slightly downhill until you come to a wide dirty moss-covered face. Dirty Faces starts in the middle of the face.
Master climber George Hurley and long-time guide and first ascentionist is known for his unlikely adventure climbs. He was 78 years old when he found this line. As is almost always the case, he didn't clean or pre-inspect the route before he led it, preferring to just start up and see where it went. In this case there was almost no gear in the first 50', but it was surprising that there was lots of gear on the upper face. If this route was actually cleaned, a major project, it would be pretty nice.

Pitch 1: Climb the mossy face, cleaning off holds and digging out gear placements where possible. At the ledge about 40' up, move right and then back left. Move a little right and look for a dike in the lichen covered slab which has reasonable gear and surprising holds. Belay from trees at the top.


standard rack
rappel from trees at the top with 2 ropes, or walk off way left
August 12,2013 - George Hurley, Judy Perez, Joe Perez and Al Hospers