Climbing Area Index / Humphrey's Ledge / Cakewalk (5.6+)
---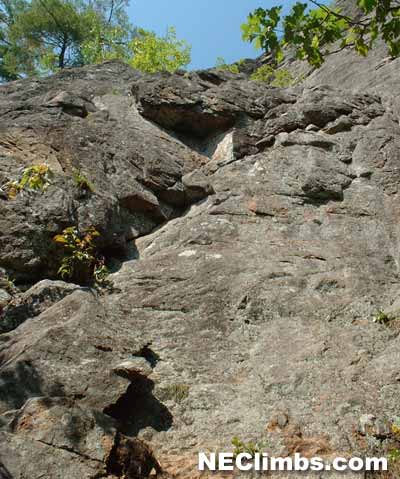 Photo by Al Hospers
Humphrey's Ledge, North of Cathedral Ledge on West Side Road. Park on the road across from the Lady Blanche House. Walk into the woods and follow a trail up to the cliff. Hike left along the cliff band until you reach a right-facing corner and buttress where the trail drops down and there are no significant climbs past this point. The climb goes up the right facing corner on the right side of buttress.
Nice climbing on well textured rock. The original second pitch up the corner is loose and is not recommended! Consider climbing Hidden In Plain View instead.

Pitch 1: Climb up the slanting finger crack on the buttress' right side. Step left around an awkward bulge and continue up to a tree ledge. Belay from trees. (5.6)

Pitch 2: Angle out on the face and layback a flake to the base of the obvious inside corner of the final headwall. Go up the right side of the corners to the belay stance at the top. (5.6+)

Pitch 3: Finish up a short slab. (5.5)


Bring a standard rack with some small gear. #3 Camelot is useful for the pillar.
Use a single 60 meter rope to rappel the first two pitches in two raps. If you go to the top bring two ropes.
June 18,1973 - Paul Ross, Joe Cote.