Climbing Area Index / Humphrey's Ledge / Piece Of Cake (5.9)
---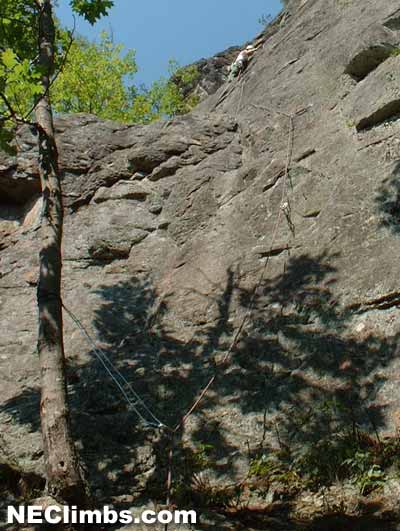 Jeff Cavicchi


Photo by Al Hospers
Humphrey's Ledge, North of Cathedral Ledge on West Side Road. Park on the road across from the Lady Blanche House. Walk into the woods and follow a trail up to the cliff. Hike left along the cliff band until you reach a right-facing corner where the trail drops down. The climb starts just right of Cakewalk, between it and Think Fast Mr. Moto.
Nice climbing, if a bit runout on the first pitch.

Pitch 1: Climb up the face ~6 feet to the right of Cakewalk's right leaning corner. Go straight up past 5 bolts to the 2-bolt belay. The crux is between the 4th and 5th bolts. The original climb stepped left to the corner above the first 2 bolts and continued up the face with no protection. Now you continue up past several more bolts to a belay. The original rating was 5.7+.

Pitch 2: Continue climbing up the white face. Swing over a large overlap on jugs and belay on a traverse ledge.

Pitch 3: Traverse left and finish on the last pitch of Cakewalk. (Optional)


Bring a standard rack with some small gear and tricams.
Use a single 60 meter rope to rappel in three raps.
August 31,1982 - Tod Swain, Carol Renselar and Jim Ewing. August 31, 1982. Originally runout, with no bolts, it was rebolted & cleaned with permission of the first ascensionists by the EMS crew Spring 2001 and again Spring 2002 by Dave Kelly, Al Reid and S. Peter Lewis with little help from Al Hospers.