Climbing Area Index / Humphrey's Ledge / Think Fast Mr. Moto (5.9)
---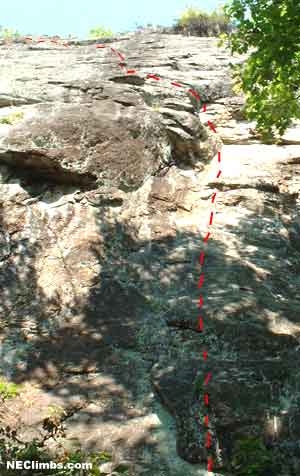 Photo by Al Hospers
Humphrey's Ledge, North of Cathedral Ledge on West Side Road. Park on the road across from the Lady Blanche House. Walk into the woods and follow a trail up to the cliff. Hike left along the cliff band until you reach a right-facing corner where the trail drops down. The climb starts ~25 feet right of Cakewalk, and 15 feet right of Piece Of Cake.
The climbing on this route is brilliant and quite varied, Arguably a 5.9 route for 5.10 leaders.

Pitch 1: Climb up a face past a bolt, a pin and then another bolt. Continue up to a layback flake/corner on your left, good gear immediately above. Make a tricky move out left onto the face, traversing 4-5 feet left to a stance using a wide but sloper hold to get to a good hold further left. Shove small gear in the horizontals. Take a deep breath and continue up trending right past a bolt and a ring piton to a double bolt belay, 30 feet left of the Run Don't Walk belay. NOTE: going straight up through all the laybacks raises the grade to 5.10+ on poor rock and it can get very runout! Not recommended!

Pitch 2: Climb straight up off the belay past 2 bolts. Then trend left on significantly easier ground with minimal gear, to a traverse ledge and the double bolt belay to the left.

Pitch 3: Finish on the last pitch of Cakewalk. (Optional)


Bring a standard rack with some small cams for the horizontals on the first pitch.
Use a single 60 meter rope to rappel the first two pitches in two raps. If you go to the top bring two ropes.
April 23,1982 - Kurt Winkler and Ed Webster, April 23, 1982. Rebolting & cleaning by the EMS crew Spring 2001. When the route was rebolted the first ascensionists were consulted. They agreed with the provision that the feel of the original route not be altered, thus the spice of the route remains.