Climbing Area Index / Humphrey's Ledge / Diss-N-Dazz (5.10c)
---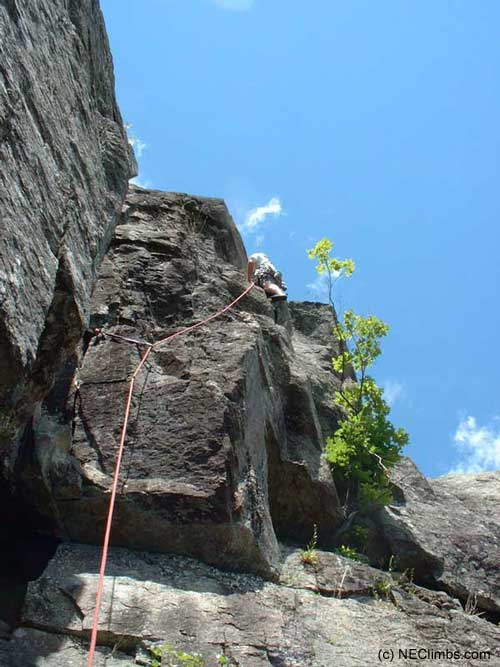 Al Hospers


Photo by Paul Cormier
Hike left along the cliff band until you find the start of Robinson Crusoe, Sole Survivor or Stickey Wicket. Climb any of these until you get to the 2-bolt belay at the birch tree just right of a buttress and directly below the Sole Survivor chimney.
A stimulating alternative finish to Robinson Crusoe or Sole Survivor. Although it doesn't look all that vertical, it certainly brings home the addage; "It's always steeper than it looks."

Pitch 1: Start at the belay on the top of the second pitch of Sole Survivor at a birch tree with a vertical wall on your left. Climb easily up to the bottom of the Sole Survivor chimney. Stem up the chimney until you can move right into a vertical hand crack in the large block just right of the corner (# 1 Camelot). Make a tricky mantle onto the top of the block (small cam) and move 10' right to a bolt. With commitment, climb straight up the the face on small holds (some dusty) to a bolt (10c). Make a balancy move right onto a thin ramp past a bolt and continue up the ramp to a corner with a triangular broken-off block at the bottom and another bolt. Take a deep breath and make another very balancy move up into the corner to a good triangular hold and another bolt. Layback on a good flake over the corner to stand on the slab with a crack by your feet. Runout the slab up and right to the double-bolt belay at the top of Robinson Crusoe.


Bring a standard rack with medium sized gear.
descend as per Robinson Crusoe.
July 25,2002 - Al Hospers and Paul Cormier. Al Hospers and Dani Gelinas spotted the line in spring 2001 after linking Stickey Wicket and the last pitch of Robinson Crusoe. Al and Brad White made 2 forays, cleaning and toproping the problem and drilled the holes. Unable to finish it before the end of the season, when they couldn't hook up in Spring 2002 Al coerced Paul Cormier to come along.