Climbing Area Index / Humphrey's Ledge / You're a Good Man Friday (5.8)
---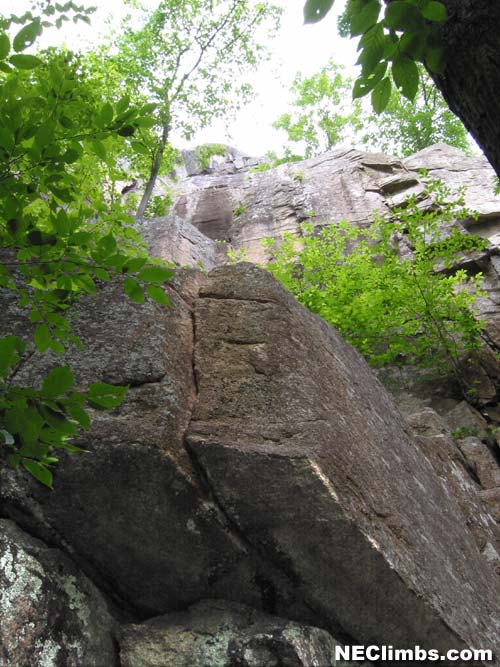 Photo by Al Hospers
Hike left along the cliff band until you find the start of Robinson Crusoe, Sole Survivor or Stickey Wicket. Look for a right facing buttress with an overhang at the bottom, 20' left of Castaways.
A stimulating alternate start to Sticky Wicket. The harder direct start up the seam hasn't been done yet!

Pitch 1: Climb up into the overhang, reach left to a sidepull and step up onto the block on the left, 5.8. Step right & continue up to the ledge. Walk directly back to the broken right-facing corner and climb about 20' to a stance. Step right onto the face and climb the beautiful finger crack (5.7) to the Robinson Crusoe/Castaways ledge.


Bring a standard rack.
Rap from the tree on the ledge at the top of pitch 1 of Robinson Crusoe. Be careful of the choss on this ledge, especially wnen pulling the ropes!
July 17,2003 - Al Hospers and Dani Gelinas. Al Hospers spotted and led the upper crack in Spring 2001 with his trusty man Friday, a.k.a. Mason Irish. Al spotted the lower crack in June 2003 and came back with Dani Gelinas to clean and lead it on July 17th.