Climbing Area Index / Humphrey's Ledge / Robinson Crusoe (5.10b R)
---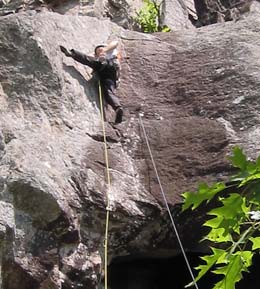 George Hurley at the crux of pitch 2


Photo by Al Hospers
Hilke up the hill and left along the cliff. Look for a dihedral leading up past a small roof to a ledge.
Pitch one is a mega-classic. If you can do Pitch 2, consider climbing Diss-N-Dazz as an alternate to Pitch 3.

Pitch 1: Climb up broken corners to a small ledge, then up a widening corner past a small roof (2 pitons and a bolt) to a tree ledge. 5.9+, 50'

Pitch 2: Climb easily to a large roof. Protect under the roof (#4 or #5 Camalot) and pull through to a bolt and stance. Clip the next bolt and move up the corner past a small flake on the left (crux). Continue to a 2 bolt anchor right of a prominent buttress and birch tree. 5.10b R, 100'

Pitch 3: Climb up and right around the poison ivy, up a slab to a bulge. Pull over the bulge (crux) and continue up a right facing corner. When it ends pull over left on jugs to a slab and 2 bolt anchor. 5.9, 110'


Bring a standard rack with small and large sized gear. Use a #4 Camelot under the roof on P 2 and a green Alien in the small flake on the left at the crux move on P 2.
August 13,1981 - Michael Hartrich, Albert Dow and Ed Webster on September 12 and 13, 1981.