Climbing Area Index / Humphrey's Ledge / Sticky Wicket (5.8)
---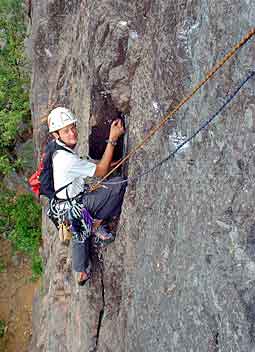 Jeff Cavicchi just before the belay on the 2nd pitch


Photo by Al Hospers
Hike left along the cliff band. The climb is about 30' left of the Sole Survivor dike and just left of the Robinson Crusoe corner and overlaps.
Fun climbing on reasonable rock, for Humphrey's. Consider traversing right off the 2nd belay and around the buttress to the last pitch of Robinson Crusoe. (5.9)

Pitch 1: Climb the large blocky right-facing corner to a layback corner and then up and left on a dirty ramp to the big tree ledge.( 5.6)

Pitch 2: Look for two small right facing corners on a dark grey face. Climb the left one past a pin, then trend up and right aiming for a good 2-bolt ring belay bout 20' below the headwall. (5.8)

Pitch 3: Step down and right off the belay, then climb straight up to the headwall and summount the moderately strenuous 5.8 bulge. Follow a groove and crack to the top. (5.8)


Bring a standard rack.
Rap the route with double ropes.
June 12,1979 - George Hurley and John Walsh, June 12, 1979