Climbing Area Index / Humphrey's Ledge / Wanderlust (5.8+)
---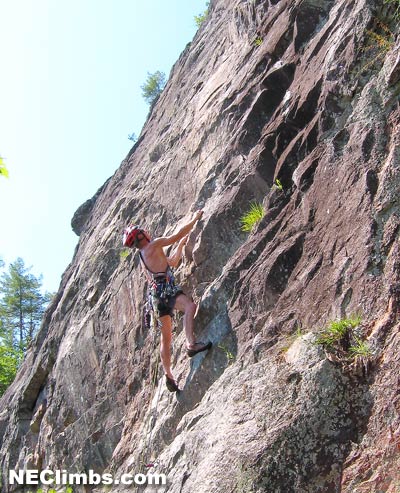 Ian Cruickshank on pitch 1


Photo by Al Hospers
Hike left toward the end of the main cliff band looking for a clean slab with shiny bolts, just before a buttress. The climb starts on a small ledge about 10 feet up and just right of the slab.
The first pitch is nice face climbing. The second wanders to the left on mediocre rock.

Pitch 1: Face climb past 3 bolts to a good placement for a small cam in a horizontal on the left. Then up past another bolt through an overlap (crux) to a nice 2-bolt anchor.

Pitch 2: Wander up and left from the belay on generally good rock past 3 bolts and small gear. Traverse left to a double bolt anchor.

Pitch 3: Optionally traverse left and finish on Cakewalk.


Standard rack with some small cams.
Rappel all the way to the ground from the anchors on pitch 2 using two 60 meter ropes.
2001 - Albert Dow and Michael Hartrich - Summer 1981
Rebolted and cleaned by Dave Kelly and S. Peter Lewis - Summer 2001