Climbing Area Index / Frankenstein Cliff / The Cave Route (WI 3)
---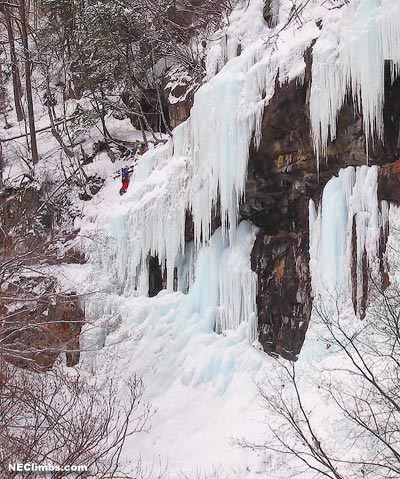 Photo by Al Hospers
Park at the Arethusla Falls parking lot. Walk North on the Railroad Tracks until you come to the trestle. Follow a trail to the left just before the trestle trending right and all the way to the back of the "Amphitheatre." Chia is the large climb all the way at the back, on the right. The Cave Route is about 60' right of Chia.
Climb straight up a curtain to some trees and a ledge beneath a short rock wall. Rap from a 2-bolt anchor or the trees, continue up and right to some other trees, or traverse left and walk off.

Standard ice rack.
Rap from anchor or slings on the trees or traverse left and walk down by Chia.
WInter 1971 - Rubin and Oriel Sola-Costa, 1971.