Climbing Area Index / Lake Willoughby / Twenty Below Zero Gully (WI 4 + III)
---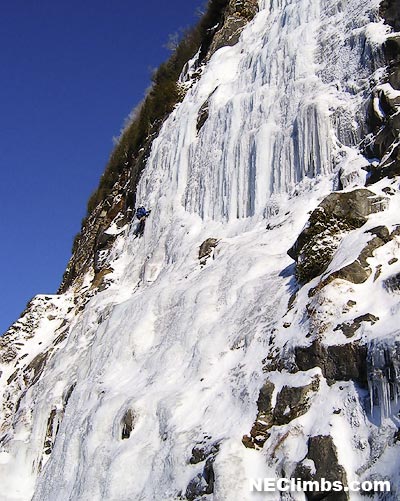 Art Mooney guiding on a spectacular day at the Lake.


Photo by Al Hospers
Located on the left side of the face, just right of an obvious rock buttress.
Twenty Below is hardly your typical gully climb. In fact it's not a gully at all. The first climb done at the Lake, it's a very popular route. always in the sun it's usually running water so be sure to wear your rain gear! Altho it was originally climbed in 3 pitches, with 60 meter ropes it can be done in 2. There is a niche/cave on the left about 1/2 way up that provides a reasonably protected standa for the belayer.

standard ice rack
Rappel from the trees at the top to a tree and stance 1/2 way down on the left. Continue down and trend right to the ground.
January 1974 - Henry Barber, Michael Hartrich, Al Rubin