Climbing Area Index / Frankenstein Cliff / Dropline (WI 5)
---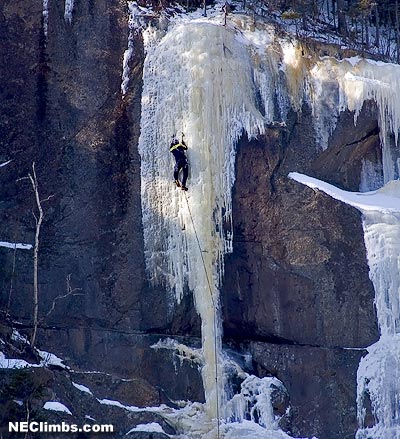 John Bragg - February 2003 morning


Photo by Al Hospers
Walk North on the Railroad Tracks until you come to the trestle. Walk across the trestle and continue down the tracks until you see a large flow on the left with a cave in the middle. This is Standard Route. Dropline starts about 150' to the right of the belay tree on Standard, right off the trail that goes between Standard and Dracula.
The classic hard ice pitch in the Valley. A testpiece for all aspiring young ice climbers. While not always in perfect conditions, it comes in every year.

Pitch 1: Climb a thin flow, often with very little protection, to a belay at a birch slightly uphill and left of the crux pillar.

Pitch 2: Traverse delicately right from the belay or downclimb and come up from below, to a pin. Climb the unrelentingly steep pillar to the top.


Standard ice rack for the pillar and possibly small cams for the first pitch.
Walk off right over the top of Dracula and down the right side of the descent gully.
WInter 1978 - Rainsford Rouner, Peter Cole, Rick Wilcox - 1978