Climbing Area Index / Lake Willoughby / Pipe Dream (WI 6 R/X, M5)
---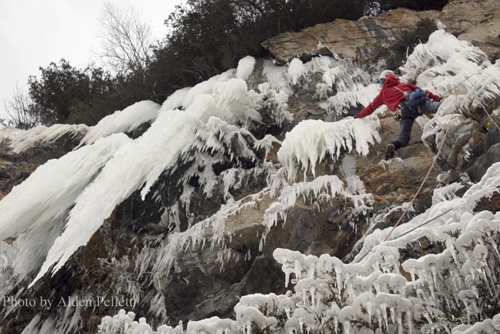 Will Mayo


Photo by Alden Pellett
Start about 100-150 feet north(left) of Called on Account of Rains at the sidewalk ledge. Not to be confused with 5 Musketeers to the right of Called.
"Pipe Dream",(WI6 R/X, M5) climbs a plumb line for 3 pitches, 170 meters. (Pitch 1- WI6R/X 50 meters, Pitch 2- WI4/4+ thin 60 meters, Pitch 3- M5 wild! 50 meters). The line has been watched for years and never formed more than a thin skin of ice down the vertical face and never quite reaching the ground before, in December 2005 it formed a striking vertical line down the cliff face.

Pitch 1: The crux of the route. It finally formed a 1-2 foot wide pipeline of thin, aerated, hollow ice with a tenuous, free-hanging section and poor gear. Much of the pitch rung differently with each placement like playing the pipes. This pitch is very serious.

Pitch 2: A rope-length of sometimes hollow WI4/4+ stubby-protected climbing.

Pitch 3: A diversity of wild climbing featuring exposure, good protection possibilities, steep rock, with a short, fierce freehanger to finish in the trees.


ice and rock gear, bring stubbies
3 rappels directly down via trees and then threads to the ground.
December 6,2005 - Alden Pellett, Will Mayo, and Doug Dillon