Climbing Area Index / Frankenstein Cliff / Welcome to the Machine (WI 4)
---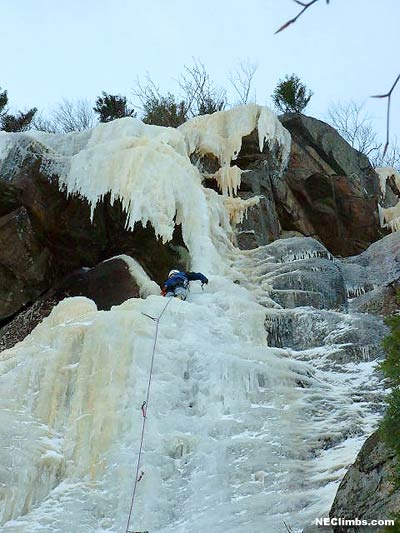 unknown climber


Photo by Al Hospers
Walk North on the Railroad Tracks until you come to the trestle. Walk across the trestle and continue down the tracks until you see a large flow on the left with a cave in the middle. This is Standard Route. Welcome the Machine starts about 150' to the right of the belay tree on Standard, right around the corner from the start to Dropline.
With 60 meter ropes you can do the climb in a single pitch, however you will not be able to see or hear your second. We suggest breaking it up into 2 pitches.

Pitch 1: Climb straight up to a short pillar. Turn the pillar on the right and belay from a ledge.

Pitch 2: Continue up to the trees.


Standard ice rack.
Walk off right and down the Dracula descent gully.
WInter 1978 - John Imbre and Karen Messer, 1978