Climbing Area Index / Frankenstein Cliff / The Penguin (WI 4 II)
---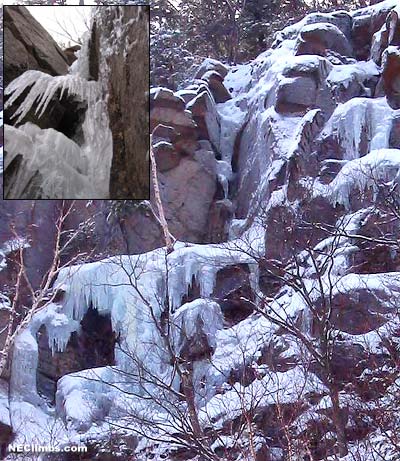 Photo by Al Hospers
Park at the Arethusla Falls parking lot. Walk North on the Railroad Tracks until you come to the trestle. Walk across the trestle and continue down the tracks until you see a large flow on the left with a cave in the middle. This is Standard Route. Hike up the snow slope and at the belay tree go right on a trail that leads to Dropline and Dracula. The climb starts at a thin flow between Standard and Dropline.
With 60 meter ropes you can climb Penguin in 2 pitches. However, if you break the second part into 2 short pitchs, belaying from the birch just below the chimney, you can both hear and see your partner most of the time (recommended).

Pitch 1: Climb the thin flow up to a bulge and then on to a ledge. This is the same ledge that leads left to the final pitch of Standard Route.

Pitch 2: Climb a short but dead-on vertical curtain to a birch tree.

Pitch 3: Step back into the corner and climb the corner to the trees. Small to medium rock protection is necessary.


Standard ice rack with some stubbies for the 1st pitch and small cams and wires for the chimney.
Walk off to the right across the top of Dracula and down the right side of the descent gully.
WInter - Unknown