Climbing Area Index / Frankenstein Cliff / Hanging Garden Area (various grades)
---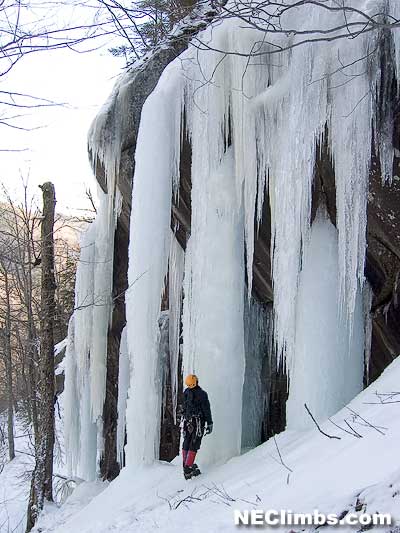 Looks a bit on the steep side. Ya think?


Photo by Al Hospers
Walk North on the Railroad Tracks until you come to the trestle. Walk across the trestle and continue down the tracks until you see a large flow on the left with a cave in the middle. This is Standard Route. Continue down the tracks about 200' past Standard to a chute. This is Dracula. Hike up the hill and then follow the trail to the right.
This area has a variety of routes that cover the gamut of hard vertical ice to overhanging to full-on mixed climbing. Definitely a place to get a pump. Many of these climbs are toproped, but try not to beat them to death, there ARE folks who can lead these things!

Standard ice rack plus an assortment of rock gear and pins.
WInter -