Climbing Area Index / Humphrey's Ledge / Hidden In Plain View (5.8)
---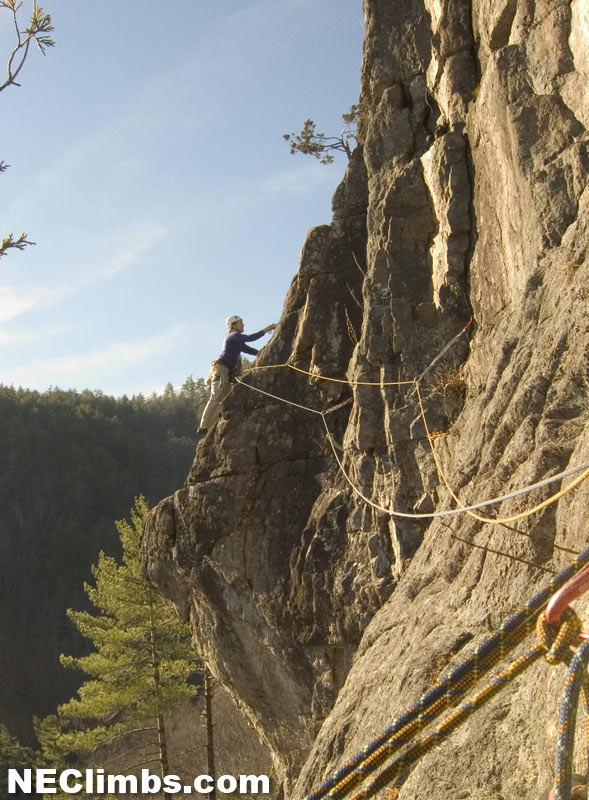 Al Hospers on first ascent


Photo by George Hurley
HIPV is on the left side of Humphrey's Ledge. Climb the first 2 pitches of Cakewalk, Let Them Eat Cake or Mr. Moto. The climb starts from the 2-bolt anchor that is common to the Cakes!
This is a very nice climb with good exposure and excellent protection. It's another way to get to the top of the left side of Humphrey's Ledge.

Pitch 1: Traverse left from the anchor as if going to climb P 3 of Cakewalk. Instead of climbing the pillar, continue left into the corner between the gargoyle and the left side of the pillar. Step up and left onto the arete of the gargoyle. Continue to the top past a juniper and pine tree staying as much on the arete as possible. The rock is very good and the protection excellent.


You really need double ropes to do this climb. Without them you will definitely have a lot of rope drag. Bring a standard rack with small cams.
Rappel from the Cakewalk rap tree. With 2-60 meter ropes you can do it in 2 raps.
November 22,2003 - Al Hospers, George Hurley and Mike Kahn