Climbing Area Index / Humphrey's Ledge / Run Don't Walk (5.9)
---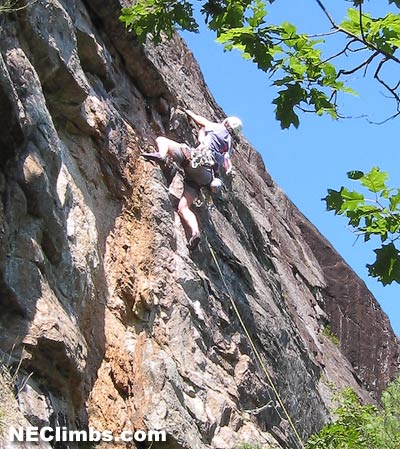 Al Hospers


Photo by Ian Cruickshank
Hike left along the cliff band until you reach a right-facing corner where the trail drops down and there are no significant climbs past this point.
A very nice climb. The first pitch is reminicent of the Gunks, with good holds exactly where you would expect them. Pitch 2 is fairly well protected thin face climbing, with some spicy moves.

Pitch 1: Start at the center of the small buttress about 20 feet down and right from the start of Think Fast Mr. Moto. Climb the buttress to its top (small pine) then the steep headwall above past two bolts. Another bolt on the lower-angled face above leads to a nice ledge with a two-bolt anchor (65').

Pitch 2: Climb straight up the face above past three bolts and then some natural gear to the right end of the sidewalk above and a two-bolt anchor, 40'. (This is the top of P.2 of Wanderlust).


Bring a standard trad rack.
rap the route
2001 - P.1 Peter Lewis & Robert Sagerman, summer 2001 (not sure of dates, they're probably in the new route book). P.2 Peter Lewis & Brian Johnston, summer 2001. It must be noted that Dave Kelly, while not on the FA of either pitch, spent hours and hours scrubbing the first pitch and was one of the key inspirators for the route.