Climbing Area Index / Humphrey's Ledge / Short & Sweet (5.10)
---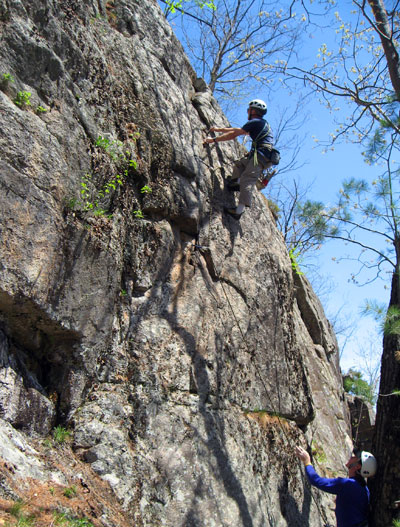 George Hurley, at 74 still making the difficult look easy


Photo by Judy Perez
Follow the climber's trail along the cliff past Robinson Crusoe to Wanderlust. The route is at the right end of the ledge below the start of Wanderlust & Eclipse. An oak tree with three trunks marks the exact start. George was 76 when he put up this climb!
The belayer needs to pay attention! A bit trickier than it looks.

Pitch 1: A bit of a scramble takes you to a stance where you can get in a #1 Camelot. Climb up and right past a bolt using an undercling and a foothold out to the right to get situated. Follow the right-leaning crack to a large tree at the top.


Protection is a #1 Camelot, a bolt, brown Tricam and an optional 3/4" SLCD. Use trees for the top anchor.
Rappel the route from trees
April 27,2009 - George Hurley and Judy Perez. Joe Perez also did the second ascent on the same day.