Climbing Area Index / Humphrey's Ledge / Black Pudding Gully (WI 4+ II)
---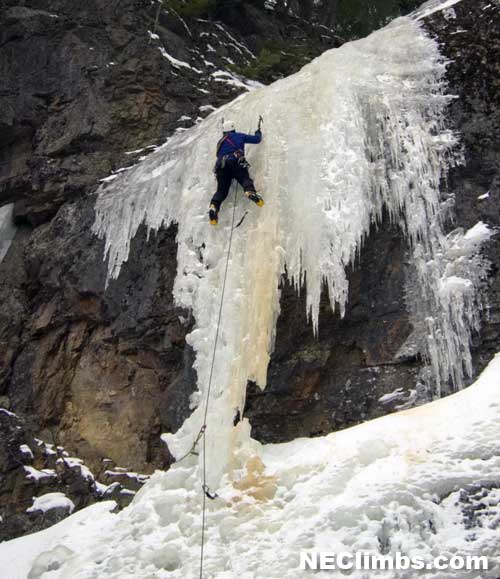 Brad White (IMCS)


Photo by Al Hospers
The climb is just off West Side Road, north and down the hill from the place where you park to climb rock at Humphrey's in the summer. The climb is the obvious column in a dark corner. Hike up the hill to an easy ice flow below the climb. You cannot see the actual climb from here. Solo the flow to a snowy ledge and belay from trees on your right.

NOTE: Sometimes a pullout is plowed right by the climb. If not then park 1/4 mile further north at the Gazebo. DO NOT park with any portion of your car on the road or in anyone's driveway or you WILL be towed! It has happened...
A total classic and local test-piece. Because it is in the shade it stays in until late in the season. The column is often candled and detached from the rock. In addition if it is a really cold day the ice can be rock-hard.

Pitch 1: Climb the cool mushroom to a stance on its left side. Sling the pillar with a cordalette or long sling. Climb the pillar (crux) to where it flattens out. Belay from a tree on the left atop a small buttress.

Pitch 2: Climb one of the upper flows to trees at the top. These can be steep and are not throw-aways.


standard ice rack
rappel from trees with 2 ropes
January 1973 - A.J. Leflur, Rick Wilcox and Peter Cole. Originally the climb was done using aid techniques including etriers.